Commenting on a haiku by Hassane Zemmouri, published on Luca's Lily Pad #48 on December 23, 2019.
moon
no one to discuss with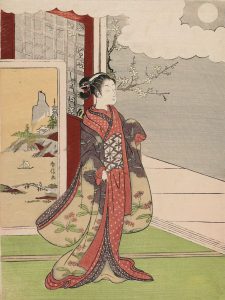 A two-line ku with 7 syllables only that is capable of evoking –thanks to its brevity– an indefinite series of suggestions in the reader's mind.
The 'rough' and solitary atmosphere clearly refers to the aesthetics of kōko 考古 and wabi 侘. The fact that the poet is alone, however, doesn't have to be read in a negative way; it is rather an opportunity to look at himself and to enter into a sincere dialogue with his deepest fears, desires and aspirations.
In Japan, the term 'moon' (tsuki 月) –unless otherwise specified– is usually referred to autumn (aki 秋), which in literature means 'change' and 'maturity'. Leggi tutto "The Solitude of Night"